Tyres
Your Local Independent Vehicle Specialist
Competitive Prices on all brands of tyre
Tyres are an important part of keeping your vehicle on the road safely and come in various types and sizes. We can supply and fit summer/winter tyres, all-season tyres, run flat tyres, 4x4 tyres and even commercial/van tyres.

If you would like a quote, we will need to know your tyre size as every vehicle can be different depending on the size of the wheels fitted, you should also check both front and rear tyres as some vehicles will have staggered sizes. Your tyre size can be found on the side wall of your tyres and will look something like this:

Have A Puncture?
Before we can carry out a puncture repair we will first inspect the tyre thoroughly. If the tyre displays tread below the legal limit (below 1.6mm across the central ¾ of the tyre tread throughout the entire circumference), has damage to the sidewall, bead or has cords showing, we will advise you to replace the tyre. Unfortunately we cannot repair RunFlat tyres.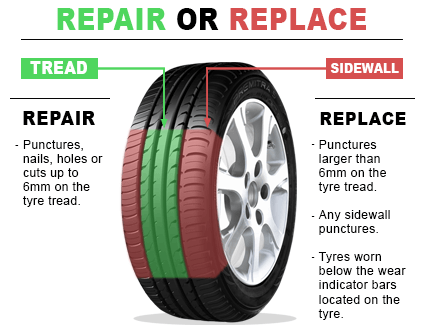 All tyres wear out or become damaged and will eventually need replacing.
How quickly that happens depends on various things, like your driving style, where you live, how you use your vehicle and how well you maintain your tyres. 
When Should you replace your tyres?
You should inspect your tyres regularly – at least once a month. Check the below to see if your tyres need replacing:
Tread wear bars: most tyres have tread wear bars – bands of hard rubber that you can only see when your tread depth has gone beyond the limit for safe driving, which is generally 1.6mm.
Uneven wear patterns: you should also check your treads for uneven wear patterns that can indicate other problems with your tyres or your vehicle.
There's a bulge or a blister on the sidewall of a tyre.These can lead to tyre failure and could be dangerous.
A tyre has gone flat due to a blow out.
A tyre has lacerations or other significant damage.
You have sidewall or tread punctures larger than 0.64cm. You cannot repair any punctures larger than that and you should never repair tyres worn below 1.6mm.

What Causes Uneven Tyre Wear?
If your tyres show signs of Toe or Camber wear, we would advise you to book in for a Four Wheel Alignment Check where we use the latest digital alignment technology and make the required adjustments to get your wheels and suspension re-aligned, this can prevent costly/premature tyre wear.
We can also check your tyre pressures free of charge to avoid over/under inflation.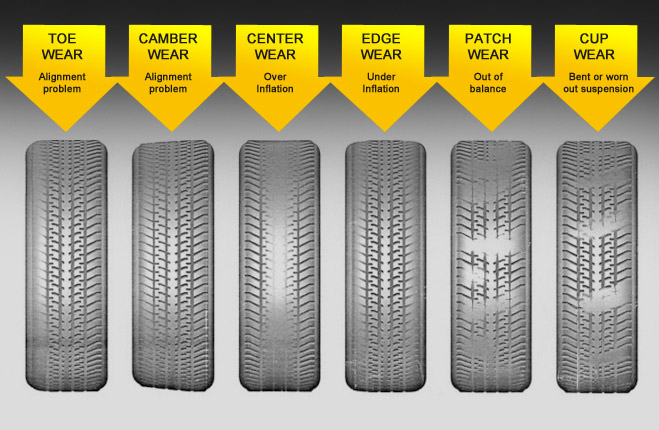 Why Choose Us?
Your Local Independent Vehicle Specialist

Experience Technicians
Our experienced technicians will treat your car with great care while they fix the issue(s) at hand. So you can drive away confident knowing your car has been in safe hands,

Professional & Dealership Level Diagnostic Equipment
We continually invest in the latest tools and equipment to help us help you get your vehicle back on the road safely and efficiently.

Value For Money
We offer competitive prices on all of our services and will always contact you for your authorisation should any repairs need to be carried out.

High Quality Parts & Oils
We only fit high quality genuine and OE parts from a select number of suppliers giving both you and us peace of mind.

Collection & Delivery Service
We are able to offer a free collection and delivery service within Malmesbury and the surrounding areas, and if you're stuck for a lift, we can drop you home.

high standards
We are committed to maintaining the highest standards of practice both inside and outside the workshop and aim to provide you excellent customer service when using our services.